Metal Prints - Your Questions Answered
Feb 23, 2021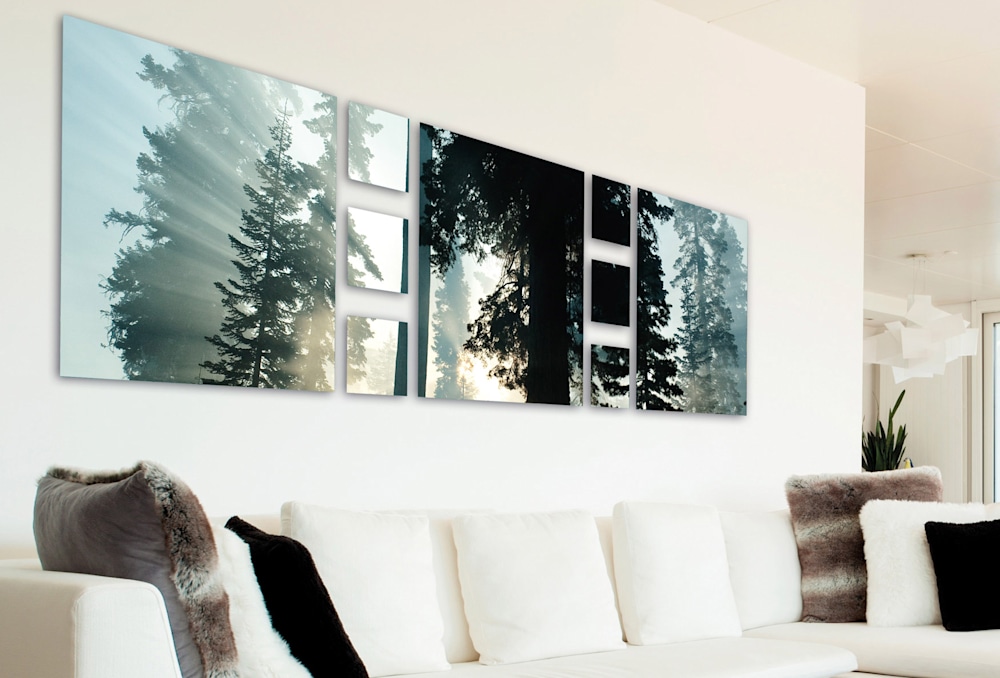 If you have been actively printing your photographs for the last few years you may have heard about printing photos on metal. This process has taken the photographic world by storm and has quickly become one of our bestselling products.
In this blog post I will answer some of the most common questions we are asked about metal photo prints so that you can decide if they might be the right choice for your next order.
What are they?
Metal photo prints are quite literally photos "on" specially coated aluminium sheets or metal. Notice I did not say printed or mounted onto aluminium sheets. This is because the type of metal prints we are referring to use a process called dye sublimation where the photograph is reverse printed using special inks and paper and then placed in a heat press and fused right into the surface of the metal.
The sublimation process produces results that are superior in colour, vibrancy and contrast to images that are directly printed onto metal sheets. When doing your research, make sure to find out which process is being used. At Print Partner we only use the sublimation process due to the superior image quality and photo realistic results it produces. Also, it is important that your printer is using the brand Chromaluxe for the metal photo panels as they are the gold standard in the industry.
| | |
| --- | --- |
| We custom cut our metal so any size is available up to 40"x60". | A photo getting ready to be placed in the metal heat press. |
What finishes are available?
Our metal photo prints comes in similar finishes to photo paper and are available in high gloss (the most popular), semi-gloss, and matte. In my experience, high gloss is the look most people are after, colours pop and blacks are rich and deep. Yes, there is a reflective nature to this finish, however, it is nowhere near as reflective as a framed print under glass and is similar to that of face-mount to acrylic (more on this process in another post).
Semi-gloss also produces great colour and depth with reduced reflectivity and matte of course has virtually no reflection at all. The matte finish is very popular for portrait and wedding photography and the semi-gloss can be a good substitute to high gloss if reflection is a concern.



Gloss Finish




Vibrant colours with rich deep blacks

.




Semi-Gloss Finish


Similar to Gloss with reduced reflection

.


Matte Finish


Softer colours and blacks with no reflection

.

Will my photos have a "metal or silver" look?
The metal photo panels we use have a white coating applied to the base aluminium sheet and as such, your image will print and look very similar to a photo printed on white paper. There are metal options for printing that have a "clear" finish where the colour of the aluminium (silver) shows through and as such will change how your photo looks.
On clear photo panels, white areas in your image will appear silver, colours will be less vibrant and contrast will be muted. We do not normally offer this product as most people have trouble visualizing the effect it will have on their photographs. If you have experience using "clear" metal sheets, please reach out to us and we can make this option available for you.
How accurately will metal reproduce my photographs?
Imaging trying to colour calibrate a process where the photo ink is vaporized and then fused through heat and pressure onto a metal panel, needless to say colour calibrating metal is not without its challenges.
That being said, we have been producing photos on metal for many years and have gotten very good at the process. We are constantly creating and refining our colour profiles, and feel confident we will be able to produce a finished product that is very close to the image you see on your calibrated monitor. If your monitor is not calibrated, or this is your first time trying metal, it may be worthwhile ordering a test print prior to us proceeding with your order. You can request this right on our website.
How do I care for my metal prints?
Unlike other photo print media, metal prints are easy to clean. The metal prints can be cleaned with a cloth and any all-purpose household cleaner. The cleaner can be sprayed directly on the surface of the print and then wiped with a cloth as needed.
How long will my metal prints last?
ChromaLuxe (the brand we use) metal photo prints were tested by Wilhelm Imaging Research and achieved a permanence rating of more than 60 years. Which means you will not see any fading or changes in colour for a very long time! This rating is more than three times better than traditional silver halide photo papers.
How do I hang my metal photo pint?
We attach a recessed frame to the back of the metal print which is approximately 1" deep. This allows you're print to appear as if it is floating off the wall without the back frame being visible. There is standard picture wire attached to the frame so you hang it just like you would any other picture.
For smaller sized metal prints 11"x14" or less, we offer a table top easel back as an option. You can also choose one of our float frames that surround the edge of the metal to give your print a unique "finished" look.
With all the benefits of photos printed on metal and the unique look it creates, it is no wonder this process has become so popular. In fact, many of our customers exclusively sell their photos on metal and have become very successful in the process.
| | |
| --- | --- |
| Add an optional float frame to "dress" up your metal print. | A recessed 1" framed is applied to the back of your metal for hanging. |
If you have any additional questions about printing your photos on metal please reach out to us by phone at 647-725-3433 or email us at support@printpartner.ca.
About the Author
Andrew Collett has over 20 years experience as a professional photographer and fine art print maker and is the founder of Print Partner Inc.